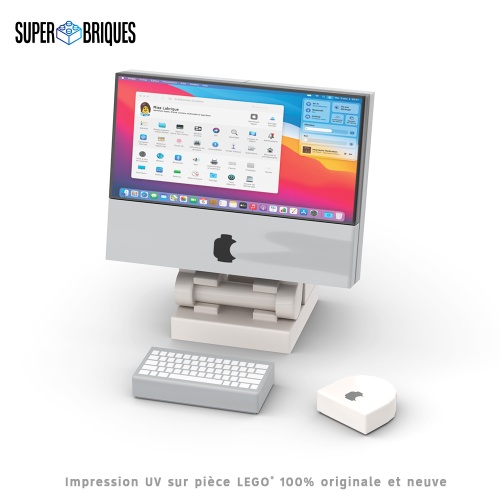 €2,999.00
-€2,995.01
€3.99
ou dreamed of it, we did it. Explore our range of customs parts, customized by high-definition UV printing, on the theme of figurines. Our graphic designers had fun creating funny, modern and offbeat accessories to accessorize your LEGO® characters.
Are you looking for an original head, torso or accessories for your LEGO® figurines ? You have arrived on the right site ! Browse our catalog of funny personalized LEGO® heads (masked figurine head, villain, pumpkin or zombie head). Dress your LEGO® figurines with a custom torso "Afol" or " I can't, I have a unicorn ". Guaranteed top effect with all brick enthusiasts. We have also developed a multitude of state-of-the-art computer accessories for your connected figurines: high-end touch tablet with a fine and modern design, a latest generation smartphone with a breathtaking camera and our famous "iBrick" desktop computer, which comes with its wireless keyboard and mouse.
In addition, we offer you many new and original LEGO® sets such as: LEGO® Star Wars, Avatar or Speed Champions sets. And for your greatest pleasure, we also have in stock hundreds of new and fun LEGO® Minifigures to complete your LEGO® or collectible sets: series 1 to 24, special and rare, City or Disney. Finally, you can customize your LEGO® creations by adding your personal touch with our wide range of retail spare parts that you can find easily and quickly by filtering them by color, price or shape.
Do not hesitate to take a look at our blog and read all our articles on our news, news and latest custom pieces.