| | |
| --- | --- |
| | Do you have a doubt, a question about one of our LEGO®, our supply times or our LEGO® parts customization service? At Super Briques, our priority is to bring you an experience with small onions (without the smell or stinging eyes) and to answer you Super quickly. |
The Super Briques Touch'
We attach great importance to our availability. No surcharged number, no relocated after-sales service, our company is located in Lucs-sur-Boulogne, Vendée / France (the country of mogette and good chicken, for connoisseurs). Being able to answer you quickly and easily is essential, you can contact us via the contact form, by email, phone and even via our social networks (Facebook, Instagram).

We are also open from 10am to 7pm continuously, Monday to Friday. So, a doubt? Need some advice? A hesitation? Come and meet us, we don't bite.

And what is the Super Briques Touch'? A professional job, a service with your finger on sewing in relaxation, with a powder of humor. No need to be strict to do a good job. And then LEGO® is fun, isn't it? You want to know who is Super Briques, take a look at our presentation and come and follow us on social networks, you will sometimes see our heads!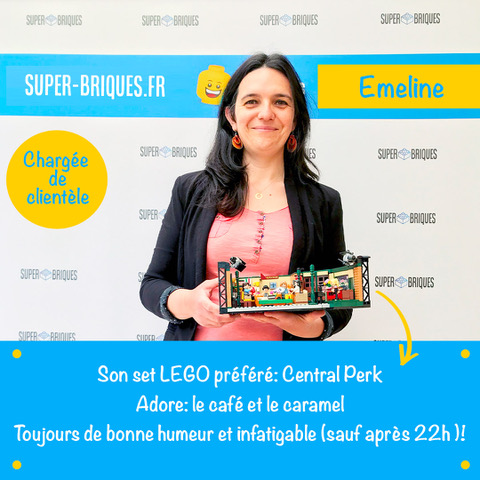 Where is Super Briques located in France? 
The entire Super Briques team is located in Vendée / France between La Roche sur Yon (85) and Nantes (44). More precisely at Lucs-sur-Boulogne in the 85.
And since we are so nice, we show you on a map:


If you are around, come and pick up your order directly from Super Briques, stroll through our showroom, meet us...
We do Click & Go, but also Click & encounter. Are you in a hurry? No worries: we are super effective! 2 min top time and you're already leaving with your order.
It is also possible to place your order directly on the spot as in a classic store (for the orders of spare parts, the preparation takes a lot of time, you may have to come back to pick up your order the time we can prepare it).
How long does it take to get a response to your message?
We try to answer you during the day or morning depending on the time of your message. We will not say it enough but our priority is to be responsive to your requests or questions.

On Sundays and holidays, we prefer to be honest, but we are slower, it's true.

You can contact us via the contact form provided for this purpose, by email or by phone at 02 51 42 38 42
I can't find the LEGO® part I want…
Our strength is to be able to find for you the piece or set you want. Even if it may seem impossible, we will give everything we can to find THE piece of your dreams.
It can be a vintage set, a difficult piece to find or a rare figurine... we can do miracles.
And it can also be an article that will soon arrive on the Super Briques website, so do not hesitate to ask us or subscribe to our newsletter or follow us on social networks.
We put new products online every week and we regularly restock our stock of LEGO® parts, so stay tuned!
A special order? Need a large amount?
Are you building a huge creation and need lots of LEGO® bricks or heads?

We can help and provide large, large quantities of new LEGO® parts. Custom orders are for large quantities of parts only.
The professional service
Our team responds to requests from professionals and associations for special orders or, most often, for personalized orders. We can make an appointment on your premises or directly at Super Briques to discuss your project together, with a cup of tea (or coffee).
Would you like to know more about professional services? This way