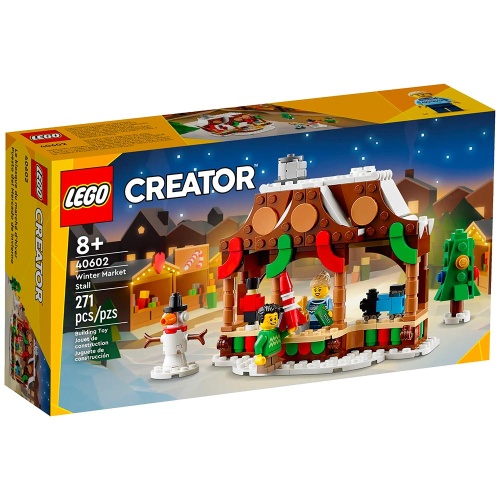 A selection of LEGO® bestsellers available on the Super Briques website. LEGO® Santa Claus, Mother Christmas, reindeer and snowmen are just some of the must-have examples for your holiday dioramas (LEGO® scenes).

And what about elves? With their ears and pointy little hats, these LEGO® minifigs are just adorable. And why not build Santa's sleigh out of LEGO® and add it to your tree? Tip: add nylon thread to your construction so you can hang it up.

To dress up your special LEGO® winter diorama : a small LEGO® tree, snowflakes, stalagmites or stalactites, ice water jets for Lego® figurine battles. A wide choice available in our LEGO® Nature category. Challenge yourself to build a LEGO® ski slope, add snow with the different LEGO® white tiles.

LEGO® Christmas is also all about food … chocolate lovers, we haven't forgotten you. Same as the must-have ... giant LEGO® turkey or just a leg with a row carrot (if the reindeer didn't steal it from you).

Little challenge, build your own LEGO® Mariah figurine that will sing her best Christmas song. ah ah Our LEGO® parts category for figurines should help you, as well as customizing LEGO® Super Brick parts. Speaking of personalization, add the first name of each member of your family to the Christmas sweater torsos for a very cool and original decoration on your Christmas Eve table this year.

Custom LEGO® Super Bricks are full of fun and original ideas, including in the games and geek category. Your minifigs will also want to play video or board games, or get a master painting as a gift.

Snow means the potential presence of Stars Wars Snowtroopers and AT-ST ™ on your winter diorama, as well as Disney® Snow Queen characters. Will there be a battle of Elsa vs Snowtroopers on a corner of your stage?

Give the gift of a winter- and Christmas-themed LEGO® set, and with Super Briques prices, you won't hesitate! Super Briques also offers a points program on your orders, so you can earn money for your next order. If you're looking for a Christmas gift idea for a child who loves LEGO®, you've come to the right place! And nostalgic tall and old kids too, the LEGO® fans, will be delighted to get a Christmas collector's figurine as Mr Little Gingerbread.