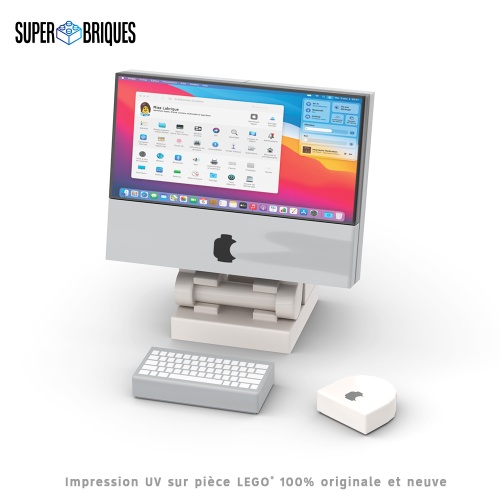 €2,999.00
-€2,995.01
€3.99
Enhance your gaming universe with new and original LEGO® personalized pieces designed by Super Briques.
Super Briques is the first French reference site for new and official LEGO® parts to customize according to your desires. Also discover all our LEGO® Super Briques creations printed by us in our Vendée / France premises.
 Based on a family passion for LEGO® bricks, the company Super Briques (located in Lucs-sur-Boulogne in Vendée / France) began its activity in May 2020. This fabulous project, thought out for a long time, made sense at the beginning of the Covid-19 health crisis. Passionate about LEGO® but also parents of young children, we wanted to promote another way to deal intelligently, away from the screens. Super Briques was born ! Merchants at heart and anxious to provide quality and proximity service, we make it a point of honor to offer our customers all the attention they deserve thanks to the trust they place in us. Because without you, Super Briques would be nothing !
 At the beginning, we created Super Briques to offer you a wide choice of rare and new LEGO® sets because we found that we always came across the same official LEGO® boxes in store. In order to take this idea of offering you a different choice of original LEGO® sets a little further, we immediately thought of giving you the means to customize your new LEGO® spare parts yourself and thus acquired a professional UV printer. Now you can enrich your LEGO® constructions using our online application that allows you to choose from our catalog of new and certified LEGO® spare parts, the LEGO® parts to print with the text and image of your choice. So, happy ? Nevertheless, if you do not have time to create your own LEGO®, we have another solution to submit to you: sublimate your LEGO® game universe and bring it a touch of realism and modernity by adding our new and original LEGO® personalized pieces. Browse all our categories of new LEGO® parts printed by us, from a choice of hundreds of references, and sorted by universe (drink, food, transport, panels and many more).
 In short, you will be able to improve your LEGO® staging and expand the field of incredible possibilities that LEGO® has offered for decades, thanks to Super Briques.